We're Getting Mutants in the MCU - The Loop
Play Sound
There are three account types in Webkinz World - free, full, and Deluxe. Free accounts are the starting point for every player; a player registers and adopts a Webkinz for free. Adopting a supplementary pet promotes an account to Full membership for one year from the adoption date, and a Deluxe membership, which comes with a separate cost, gives an account a Deluxe Membership for as long as the subscription is paid for.
History
Initially, players could only play in Webkinz World if they adopted a pet in the Adoption Center using a Secret Code. Adopting a pet was required in order to make an account, and each adoption would allow a player to use Webkinz World for one year from the adoption date. After that, players would be required to buy a new pet in order to be able to play in Webkinz World again.
In 2012, this model changed. Players were able to adopt a Mutt or Domestic Cat in order to experience Webkinz World for free. In 2014, the available pets changed again to give players nine different options. One free pet could be redeemed per player, but the pet would not grant the player a "Full Membership" status. While these pets have changed over time, some available pets have been:
Free Accounts
Free accounts are accounts that have either never adopted a Webkinz pet or have not adopted a pet in the past year. These accounts are very limited in what they can do in Webkinz World. Free accounts cannot:
Free accounts also only have limited access to shops like the W Shop and KinzStyle Outlet, and can only do certain jobs or classes in the Employment Center and Kinzville Academy. Free accounts can be upgraded to full either by purchasing a Deluxe membership or adopting a pet.
Full Accounts
Full accounts have more access to the features that Webkinz World has to offer, though still cannot take advantage of everything. While full accounts can purchase most items in the W Shop and play many of the games in the Arcade, there are still some features that are exclusive to Deluxe members. The only things that full accounts cannot take advantage of are Deluxe exclusive areas like Vacation Island and the KinzStyle Shop.
Full membership lasts for a year from the last time a player adopted a pet. Pets adopted using Pet Medallions do not extend a player's full membership.
Deluxe Membership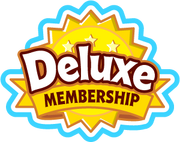 Template:Main
Deluxe membership is the highest account level in Webkinz World, requiring a monthly subscription fee. Deluxe members get special perks not available anywhere else, including:
Deluxe-exclusive Arcade games and events in Today's Activities, including the Wheel of Deluxe and Wheel of Wishes
Bonus classes and jobs at the Kinzville Academy and Employment Center
Deluxe-exclusive competitions at the Webkinz Stadium
Access to exclusive areas such as Vacation Island and the KinzStyle Shop
Daily quests in Adventure Park
Access to an exclusive Deluxe section of the Curio Shop
Extra pet outfit slots
Customized KinzPost stationery and KinzChat chat bubbles
External links