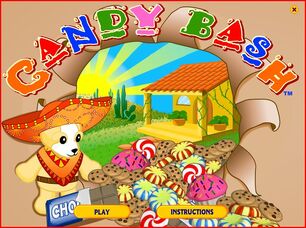 Candy Bash is a Webkinz World Arcade game starring Poncho the Chihuahua. Its sequel is Candy Bash 2.
Object
The object of this game is to knock out all of the colored squares before you lose all of your beans. You must move Poncho from side to side to keep the bean off of the ground, and trying to hit the boxes. You then try to catch the falling food for an added bonus. There are also boxes that contain non-food items, such as a bonus bean, a rocket, and more. There are 30 levels to this game, and you must knock out all of the boxes to advance to the next level.
Controls
You may use your mouse or your arrow keys to move Poncho.
Trophy

You automatically win the trophy after beating all 30 levels. You can win as many as you'd like, and they are Kinz Postable and tradable.
Tips
If it looks like you can't get both the piece of candy and the bean, go for the bean. It's better to be safe than sorry.
When you hit a "bean" square and there are two beans on the screen, try to keep both of them up there for a good amount of time. However, if it looks like it's getting out of control with two beans, let one drop.
Try to make patterns with the candy you pick up. The better the pattern, the higher bonus you will receive.
Trading Card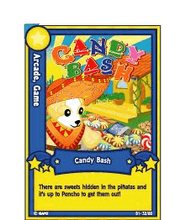 Community content is available under
CC-BY-SA
unless otherwise noted.