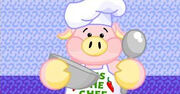 Chef Jeffrey Gazpacho is a character in Webkinz World.
He is featured in a television show called the The Secret Chef. On the show he teaches you how to make delicious meals with your oven, stove, blender etc. to feed to your Webkinz or Lil'Kinz Pet.
Chef Gazpacho also can sometimes be a judge in games in the Tournament Arena including Webkinz Chef Challenge, and Webkinz Super Modelz.
Chef Gazpacho has his own dessert restaurant but is not interactive to your pet. His only notable family member is Momma Gazpacho. His apron is not an item in Webkinz World so far and his apron says "Kiss The Chef".
W-Tales
Chef Gazpacho appears in the W-Tales story The Recipe for Success. He is just opening his own restaurant there and everyone is looking forward to it. When he realizes that his restaurant will have competition from his childhood rival, he is surprised. When he finds out that Sophia's restaurant La soufflé is making better desserts than him, he decides to pay a visit to his Momma. When his Momma proves unprofitable, he visits his old teacher, Chef Julienne. The Chef tells him that he can come up with a good dessert himself and sends him away. Next he goes to Goober but when Goober goes into a long explanation of the most disgusting foods, he sneaks away. Desperate, he goes to La Soufflé and asks Sophia but he gets kicked out. He finally gets inspiration in a dream and combines: Cinnamon Buns, Kiwi Tarts, Choco Chip Waffles, Maple Syrup, Candied Watermelon Slices, Powdered Candy Floss, Bubbly Vanilla Sauce and a Sprig of Mint from his garden to make the best dessert ever, the Snout Supreme. He totally destroys La Soufflé but he realizes how hard Sophia worked, so he decides to take all desserts off his menu and give the Snout Supreme recipe to Sophia, as a token of her gratitude, Sophia takes all diners off her menu so if you want Diner, go to Le Snout and for dessert, La Soufflé. Chef Gazpacho and Sophia Soufflé were best friends after that.
Personality
Chef Gazpacho is constantly referring to his mother and making her proud, this may show that he was unappreciated by his mother when he was young. He has an Italian accent once again relating to the fact that he is a chef (Italy is known to be one of the cooking countries; the other is France).
Trivia
Chef Gazpacho is one of three (main) Pig characters (he is most famous), the other ones are Pinky the Pig and Wiggles.
Even though an arcade game, Pizza Palace is about cooking, Chef Gazpacho has no appearances.
He has a mother and she is called Momma Gazpacho (to which she might have a different name).
Community content is available under
CC-BY-SA
unless otherwise noted.