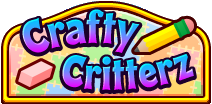 Crafty Critterz is the section of the Webkinz Main Page where you can find creative, Webkinz-themed crafts. The crafts are submitted by Webkinz members, and sometimes the craft ideas are published. In Crafty Critterz, there is also a featured craft and new additions section.

From Webkinz Crafty Critterz Page:
"The Crafty Critterz Club, run by Crafty Kimmy, is the place where you can find out how to make awesome Webkinz-themed crafts and recipes! You'll notice that each recipe shows from one to five stars. The stars show how easy or hard a craft or recipe is. If a craft or recipe has one star, that means a grown-up assistant won't have to give too much assistance. If a craft or recipe has five stars, that means a grown-up assistant will have to help out a lot. We recommend that grown-up assistants help out with every craft and recipe - after all, what's more fun than crafting with a friend?"