Dr. Quack is one of the original hosts of Webkinz World. He is a former doctor who ran his own clinic, Dr. Quack's Clinic, but retired after the Medical Mystery was solved.[1][2] Despite his retirement, he still makes appearances in the game Webkinz Supermodelz and in the job Dr. Quack's Assistant.
In 2016, he was elected as the 2nd Mayor of Kinzville[3], and was reelected in 2020.[4]
Description
"Dr. Quincy Quack is an amazingly kind and gentle duck – he runs the clinic and sees every single sick Webkinz. He can cure any illness – he has never failed. Dr. Quack has been romantically linked to Ms. Birdy...but he won't confirm anything."
Dr. Quack's Clinic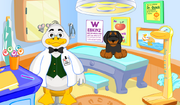 Ever since 2005, players have been given the opportunity to interact with Dr. Quack in his clinic. He listened to your pet's heart, checked their reflexes, and/or looked in their mouth or ears. He also warned players of their caretaking habits, deciphering the wrong from right. If your Webkinz was sick, Dr. Quack told you how to help, and gave you medicine to make your pet feel better.
History
Founding of the Clinic
For a school project, Roberta Rabbit wrote a report on the history of Dr. Quack's Clinic.[5] The information on the founding of the clinic is as follows:
After Dr. Quincy Quack graduated medical school, he decided to move to Kinzville after discovering there were no doctors in the area and that pets were traveling to the Big City for medical care. He soon made his way to Kinzville and began looking for a place to set up his new clinic. At first, he had trouble finding the perfect spot, but eventually came upon an available lot nearby the KinzPost Office and Adoption Center.
Detailed information about the founding of the clinic can be read in the full article.
Retirement
On March 3, 2015, Webkinz Newz announced that because Dr. Quack found a way to cure all pets of all illnesses with help from the mad scientist Goober, he decided to retire and close his clinic's doors on March 25, 2015.[6]
Mayor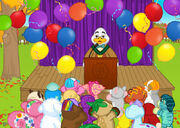 In the Webkinz Votes 2016 election, Dr. Quack ran for Kinzville Mayor, and on December 1, 2016, he was elected as the 2nd mayor. He began his term on January 1, 2017. He reran for mayor throughout the Webkinz Votes 2018 election, but lost to Sophie Stockwell. He officially left office January 1, 2019.
On November 30th, 2020, he was reelected as Mayor of Kinzville in Webkinz Votes 2020.
Trivia
His office at the clinic had been given a makeover by Hailey and Elwin.[7]

While not a makeover by Hailey and Elwin, it was written about how he decorated his kitchen for Christmas in 2012.[8]

He was once given a fashion makeover by Persephone.[9]
In early 2007, rumors were spread that Dr. Quack and other Webkinz Hosts could kill a player's pets. This rumor was known as the Webkinz Killer, though it was addressed by Ganz and proven false.
Gallery
References