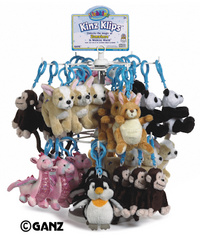 Kinz Klips are cute, teeny versions of your favorite Webkinz pets that can be attached to any backpack! Kinz Klips are smaller than Lil Kinz, and they have blue key clips attached to them. Each Kinz Klip comes with a code that can be redeemed in the Code Shop, but it is worth noting that a Kinz Klip will not extend a "Full Membership" nor register a new Webkinz Pet under your account.
List of Kinz Klips
Black and White Cat
Black Bear
Brown Arabian
Brown Dog
Bulldog
Bullfrog
Charcoal Cat
Chicken
Chihuahua
Clydesdale
Cocker Spaniel
Cocoa Dinosaur
Cow
Dalmatian
Dolphin
Frog
Golden Retriever
Googles
Hippo
Kangaroo
Key Lime Dino
Koala
Lamb
Love Frog
Love Puppy
Monkey
Mouse
Panda
Penguin
Pig
Pink and White Cat
Pug
Rabbit
Reindeer
Seal
Siamese Cat
Spotted Leopard
Tiger
Toco Toucan
Velvety Elephant
Whimsy Dragon
Yellow Lab
Gallery
Community content is available under
CC-BY-SA
unless otherwise noted.