The Kinzville Academy is the place where pets can go to school. Ms. Cowoline is the superintendent, and she helps players sign up for classes with their pets. The attributes that users train in the Kinzville Academy have affects in other places in Webkinz World such as Webkinz Stadium and the Employment Office. Each pet on a player's account can take three classes per day, where Deluxe members can take one extra.
Every so often, a Super School Day takes place where pets earn twice as many credits for every class they complete. This means that they get closer to the next level in a class faster. However, it does not count as an additional school day for attending recess.
Taking Classes
There are six basic classes and two Pet Talent courses, for a total of eight courses overall. The available courses are:
Physical
Mental
Pet Talent Courses
Each pet that a player owns is trained separately, so all pets start at level one in a class. To attend a class, click on the clipboard that says "Go to Class". Click on one of the dropdowns for Basic or Pet Talent Courses, and click on the desired class. Click on the green SIGN UP button, and the class will begin.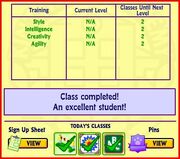 When a pet completes a class, it is recorded on their report card. The report card displays a pet's current level in a class, as well as how many more classes they must complete to get to the next level. Every time a pet levels up in a class, that pet earns a new pin that displays their new level. Once a pet reaches level ten in all of the basic courses, that pet will earn their Kinzville Academy diploma.
Formerly, it cost tuition to attend the Kinzville Academy. In 2010, it was made free for all users. Users could also pay 250 KinzCash for tutoring, which meant that their pet would pass the class without playing the game associated with it.
Attendance Bonuses
Players will also earn bonuses for reaching certain levels in the Kinzville Academy. Basic Courses award Pet Actions once a pet completes the fifth level of that course. Pet Actions can be used account-wide once they are unlocked, so each pet can enjoy the benefit of this reward. When a player's pet earns a level ten pin in a Basic Course, then the player can choose from a pool of prizes to unlock. The requirement for additional pets to reach the next level in that course also goes down. Once a pet graduates by completing the tenth level of every basic course, the player receives a diploma that can be printed out and placed in their pet's room.
Pet Talent Courses award different prizes - when a pet completes level five, a special item is unlocked. Reaching level ten in a Pet Talent Course unlocks a special version of that course that can be played in the Arcade. Two of these games currently exist for the two pet talent courses: Griddling Gourmet for Cooking and Plumpy's Hairdresser for Grooming.
Recess
Once a player has sent their pets to school for fifteen full days of class, they can go to recess. There are a variety of different activities to play during recess, such as Hopscotch, spinning the Merry-Go-Round, Hide-and-Go-Seek, and Buried Treasure. Each of these activities can award exclusive prizes, KinzCash, and more. Each game can only be played once during recess, and once each game has been played the player receives a lunchbag full of snacks for their pet.
Community content is available under
CC-BY-SA
unless otherwise noted.