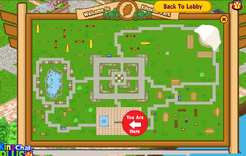 The Kinzville Park is a location in Webkinz that allows users to explore, interact with various structures in the park, play multiplayer games, and collect litter that generates on the ground. The park contains a pond, central area, stage, billboard area to view a map of the park, many playground structures that pets can play on, including swings, seesaws, and slides, as well as trees and logs to sit on. There are game tables around the pond for multiplayer games such as Go Fish, Link'd, Zingoz Switcherooz, and Skunk Sweeper. Grills in the park can be used to make stove recipes.
The Kinzville Park is also the only place to find Mr. Moo, as well as to buy ice cream from him. Mr. Moo will appear in the Kinzville Park for one hour at a time, but his ice cream cart will remain in the park even when he is not present.
Park Cleanup
The Kinzville Park is the only place in Webkinz World to collect litter, which generates on the ground every 5 minutes. Litter can generate in multiple places around the entire park, and the cursor becomes a garbage bag when hovering over a piece of litter. Each piece of litter can only be collected by one user, and is collected when a pet walks over to it when a user clicks on the litter. The garbage bag can only hold 10 pieces of litter.
Litter should be deposited into the bins in the Kinzville Park. Litter is sorted into two categories: composting and recycling. The bins each have a sign next to them with a guide to disposing of the litter that appears in the park.
| Compost Items | Recycling Items |
| --- | --- |
| Apple core | Cereal box |
| Banana peel | Aluminum can |
| Ice cream cone | Newspaper |
Disposing of litter correctly adds 1 point to a user's Green Score, whereas incorrect disposal subtracts 2 points from the Green Score. Disposing of litter correctly grants users higher Green Rankings, as well as various nature-themed clothing items or furniture. The Green Score can be seen when using a bin or reading the sign next to it.
Green Rankings
0-49 - Cleanup Kinz Lil Seed
50-499 - Cleanup Kinz Lil Sprout
500-999 - Cleanup Kinz Small Sapling
1000-4999 - Cleanup Kinz Tall Twig
5000-9999 - Cleanup Kinz Growing Green
10000+ - Cleanup Kinz Gigantic Tree
Prizes
Gallery