| | | |
| --- | --- | --- |
| | This article is a stub. You can help Webkinz Wiki by expanding it. | |

Characters in Webkinz World who do not have enough information to warrant their own separate page.
Family Members
Below are relatives of Webkinz Hosts and the 'Kinz Crew.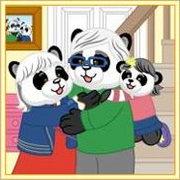 Mrs. Panda: The mother of the Panda family. Goes unnamed.
Mr. Panda: The father of the Panda family. Goes unnamed.
Peter Panda: Younger brother of Amanda.
Patrick Panda: Younger brother of Amanda.
Penny Panda: The youngest sister of the family.
Arte's Sister: The mother of Sparky Fact and sister of Arte. Goes unnamed.
Alex Tiger's Family
Alex Tiger's Mom: Makes an appearance in the story Alex the Brave. In this story, she takes care of Alex Tiger and gets him ready for school. She reveals to him that he is going to school and then puts up with his constant complaints until he is there.
Ella McWoof's Family
The Elephant Family
Enorma Elephant: The main character of the W-Tales story Color Catastrophe. She is a 9 year-old elephant who is rather clumsy and cannot work very well. She is often found making mistakes. In Color Catastrophe, she goes on a quest to heal herself of a potion she afflicted upon herself while visiting Goober's Lab. Along the way, she meets Hue Zingoz. The Kinzapedia describes her as:
"Enorma is a quirky elephant with a scientific mind and a general lack of coordination. She is friends with Polly Panda, and acquaintances with the rest of the 'Kinz Crew. Enorma likes to learn why and how things work, write in her notebook, and meet up with her good friend Hue the Zingoz for picnics. Even though she's clumsy, she tries to be patient with herself and not lose her sense of humor."
Mr. Elephant: The father of Enorma. He is mentioned in Color Catastrophe.
Chef Gazpacho's Family
Friends
Below are characters who are friends with Webkinz Hosts or 'Kinz Crew members.
Melinda
Polly Panda's best friend who lives in the Big City, mentioned in Molly Pig's Best Friend Chapter 8.
Sasha, Lisa, & Josie
Friends of Amanda Panda that live in the Big City, mentioned in Amanda Panda's Journey Home Chapter 2. Polly describes them as "...[not] exactly nice girls."
Sara Cat
Alex Tiger and April Keymon's friend. She makes an appearance in Alex the Brave.
April Keymon
The 10 year-old friend and former classmate of Alex Tiger. She makes an appearance in Alex the Brave and is mentioned in Letters From Camp. The Kinzapedia described her as:
"April is an extremely enthusiastic young Cheeky Monkey. She's outgoing and cheerful and loves a good adventure. She's basically the complete opposite of her best friend, Alex Tiger. Recently, she's moved across town, to be closer to her elderly grandmother, but she keeps in touch via email and funny notes and cards."[1]
Frank Googles
A classmate and friend of Alex Tiger. He makes an appearance in Alex the Brave.
Matilda Monkey
Matilda is a friend of Arte Fact. She is featured in Arte and the Lost Tomb.
Arcade Characters
Characters that are only featured in Arcade games.
Billy Goat
The 67 year-old janitor featured in the Lunch Letters Arcade game. The Kinzapedia described him as:
"Billy is a good-natured goat who cleans the cafeteria in Lunch Letters. He's got overalls, a janitor's mop and a sense of purpose. He only gets flustered if the floor gets too covered in food."[2]
Blanche
Blanche is the server in Smoothie Moves. She is a Persian Cat.
Gato Loco
The enemy of Poncho in Candy Bash 2. Gato Loco is Spanish for "crazy cat". The Kinzapedia describes him as:
"The Gato Loco is Poncho's arch-nemesis in Candy Bash. This crazy kitty is always trying to steal Poncho's delicious candy!"[3]
Horace
Horace is the main character in the games Cash Cow and Cash Cow 2. He has a resemblance to Mr. Moo due to similar appearances and occupations. The Kinzapedia's description of him is:
"Horace is the cow in Cash Cow and Cash Cow 2. There's only one thing he loves – collecting milk!"[4]
Livingston Lion
Livingston is the main character in the Arcade game Bounce N Burst. He is described in the Kinzapedia as:
"Livingston is a brave adventurer who roams the jungles of Kinzville. Livingston's entire goal in life seems to revolve around using various devices to tickle unsuspecting Burstos Zingoz. These Zingoz are glad to have him around, though – they love being tickled!"[5]
Poncho
Poncho is the main character in the Arcade games Candy Bash and Candy Bash 2. The Kinzapedia describes him as:
"Poncho loves one thing and one thing only – candy! Unfortunately, that gato loco is always trying to steal it from him. Luckily, our Poncho is fast, persistent and sneaky – he usually gets his candy before the cat takes it all away. Poncho is a Chihuahua with a large sombrero. He lives somewhere in the Webkinz World desert."[6]
Pinky the Pig
Pinky is the main character in the Arcade games Hungry Hog and Hungry Hog 2: Pinky's Big Adventure.
Holiday Characters
Characters that only show up during holidays, such as Halloween or Christmas.
SantaKinz
SantaKinz is a character that only appears around Christmas. His appearance is not consistent, ranging from being a Polar Bear, a Golden Retriever, and a St. Bernard. The Kinzapedia describes him as:
"SantaKinz only comes to Webkinz World at Christmas, of course. He brings toys to and good cheer to all."[7]
More information about Christmas in Webkinz World can be found on the Christmas page.
Leprechaun
Spooky the Cat
Others
Other characters that make appearances in either W-Tales, Webkinz World, or Webkinz Newz articles.
Gus
Goober's baseball coach, mentioned in The Smarty Pants.
Leonardo de Vinyl
Bart Biffmabob
Hue Zingoz
Hue is the Zingoz guardian of the Rainbow Prisms/Gems and the last of his kind. He is featured in the story Color Catastrophe. The Kinzapedia describes him as:
"Hue guards the rainbow gems in caves near Webkinz World. He's not a fan of Doug, who is on the search for the rainbow gems. Hue does his very best to keep the contents of the cave and the cave's location a secret. It can be lonely work being the guard Zingoz, but Hue has his best friend, Enorma, visit him frequently."[8]
Miles Von Hogstrom
The director and producer of Dacey Bryn's movies. He makes an appearance in Superstar Spring Break.
Miss Daisy
A teacher at Kinzville Academy who makes occasional appearances in W-Tales and Webkinz Newz articles. Not to be confused with Daisy Doe.
Petunia Pringle
Petunia is an elementary school aged rabbit who beats Fred Rover in two running contests. She makes an appearance in Fred Rover's Big Win.
References