Pets that begin with the letter Z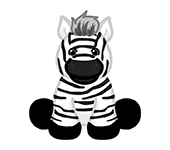 Zebra - The zany Zebra gets noticed wherever it goes! This striped pet is certainly a striking sight - it loves meeting up with friends in Webkinz World! Most of all, it likes to kick back and enjoy a tall glass of Vanilla and Chocolate Striped Trifle!
Zebra Foal - The Zebra Foal is one adorable little animal! You'll want to keep them entertained with a lot of toys, but you can still keep their room tidy by putting everything away in their Zebra Toy Box! When they're feeling a little hungry, feed them something simple like a delicious bowl of Oat Grass Porridge!
Zen Dragon - If you love calm, relaxing pets, then the Zen Dragon is for you! This ancient magical creature enjoys exploring its sanctuary while snacking on some yummy Zen Dragonfruit Soarbet! At the end of their peaceful afternoons, they love reflecting on the day while gazing at their own Zen Stone Statue!
Zig Zag Zebra - Get ready for a wild ride with the Zig Zag Zebra! This dynamic pet loves to keep busy by visiting their many friends (like you!) out on the town, so of course they need their very own Zany Wardrobe to keep all their many outfits organized! Plus, when they're on the go to their next stop and need a sugary blast to keep them going, hand them a pack of Lightning Licorice, a treat sure to re-energize!

Zircon Puppy - Zircon Puppies sure are friendly! One look at this sweet little pup and you're sure to fall in love. With a great big heart and a gentle, caring personality, you know this puppy is the ideal pal for you!
Zombie Bloodhound - The undead has never been cuter! Meet the Zombie Bloodhound, the most adorable wee monster around! This petrifying pup loves nothing more than cuddling up with you on their own personal Cobweb Couch! And when they get a bit hungry, distract them with a freaky Frightening Fritter!
Zombie Pup - Rawr! The Zombie Pup has awoken! Despite their ghoulish look, this puppy is a sweetie at heart. In fact, they love taking naps in their Cozy Coffin Bed! And when it's time for some tasty dessert, they always reach for their Putrid Pudding first!
Community content is available under
CC-BY-SA
unless otherwise noted.