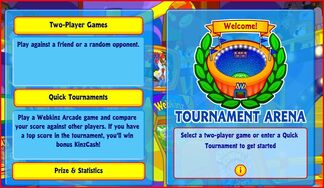 In the
Tournament Arena
, you can play other
characters
from other parts of the country and face them in a
tournament
. Or, you can play it by yourself. Some
games
you'll remember from the
Arcade
and others will be new. Two examples are:
Webkinz Chef Challenge
, and
Webkinz SuperModelz
. There are other
games
too!
Two-Player Games
Edit
Quick Tournaments
Edit
Prize & Statistics
Edit
Tournament PrizesEdit
Best Score Wins

If you'd like to check your placement on the tournament, there will be a trophy placed on the top left corner of your screen.
0 - 10 players:
1st Prize: $20
2nd Prize: $10
11 - 20 players:
1st Prize: $25
2nd Prize: $15
3rd Prize: $10
21 - 50 players:
1st Prize: $50
2nd Prize: $35
3rd Prize: $25
4th Prize: $20
5th Prize: $15
6th Prize: $10
7th Prize: $10
8th Prize: $10
Best Score PVP
1st Round Win: $10 Winner Bonus: 0
2nd Round Win: $10 Winner Bonus: 0
3d Round Win: $12 Winner Bonus: 5
4th Round Win: $20 Winner Bonus: 10
5th Round Win: $25 Winner Bonus: 20
Player vs. Player
1st Round Win: $10 Winner Bonus: 0
2nd Round Win: $10 Winner Bonus: 0
3rd Round Win: $15 Winner Bonus: 5
4th Round Win: $20 Winner Bonus: 10
5th Round Win: $25 Winner Bonus: 20
6th Round Win: $30 Winner Bonus: 30
7th Round Win: $40 Winner Bonus: 40
8th Round Win: $50 Winner Bonus: 50