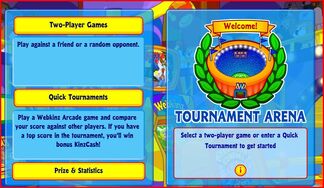 In the Tournament Arena, players can face off against others in real time through tournament battles. It is also possible to play alone, either by facing a Webkinz Host or participating in a Quick Tournament. Quick Tournaments involve multiple players playing a game and submitting their score in order to determine the winner, while two-player games are head to head competitions between two players.
Some games are carried over from the Arcade (such as Wacky Zingoz), or have been modified for a two-player format (such as Cash Cow Battles!) Other games are entirely new for the Tournament Arena, such as Webkinz SuperModelz.
Two-Player Games
Quick Tournaments
Retired Games
Prize & Statistics
Tournament Prizes
Best Score Wins

If you'd like to check your placement on the tournament, there will be a trophy placed on the top left corner of your screen.
0 - 10 players:
1st Prize: $20
2nd Prize: $10
11 - 20 players:
1st Prize: $25
2nd Prize: $15
3rd Prize: $10
21 - 50 players:
1st Prize: $50
2nd Prize: $35
3rd Prize: $25
4th Prize: $20
5th Prize: $15
6th Prize: $10
7th Prize: $10
8th Prize: $10
Best Score PVP
1st Round Win: $10 Winner Bonus: 0
2nd Round Win: $10 Winner Bonus: 0
3d Round Win: $12 Winner Bonus: 5
4th Round Win: $20 Winner Bonus: 10
5th Round Win: $25 Winner Bonus: 20
Player vs. Player
1st Round Win: $10 Winner Bonus: 0
2nd Round Win: $10 Winner Bonus: 0
3rd Round Win: $15 Winner Bonus: 5
4th Round Win: $20 Winner Bonus: 10
5th Round Win: $25 Winner Bonus: 20
6th Round Win: $30 Winner Bonus: 30
7th Round Win: $40 Winner Bonus: 40
8th Round Win: $50 Winner Bonus: 50