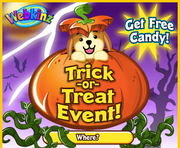 In 2009, players hunted in the Clubhouse for a Trick or Treat Ghost.
In 2010, Ganz changed things and sent Spooky the Mazin' Hamster to the Clubhouse.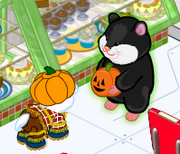 How to Play
Trick or Treating in Webkinz World is as simple as hanging out in the Clubhouse. If Spooky pops up in your room, click on him and you will be rewarded with a piece of candy.
When Spooky enters a room, he makes a "Boooo!" sound, so make sure to have your computer speakers turned on. This way you can have more than one screen open on your computer, and you'll be able to flip back to Webkinz World the moment Spooky appears. He only remains in each room for about a minute, so move quickly.

Every player gets a spider Trick or Treat bag that is displayed on the bottom-right corner of the screen. Clicking on this bag will bring up your current candy collection. When a player in the clubhouse checks his collection, a Jack O'Lantern will appear above his pet's head.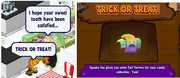 After a pet has received a piece of candy from Spooky, the words "TRICK OR TREAT" will appear above that pet's head.
How to Find Spooky

Unlike other Hamsters in Webkinz World, the Trick or Treat Spooky carries a small jack o'lantern and is surrounded by a strange green glow. Webkinz Insider members are tracking Spooky to see if there is a pattern to his appearances.
If you don't want to jump around and try to figure out what room Spooky is in, just park your pet in one room and stay there. Eventually, Spooky will show up where you are. Currently, you can collect candy every three hours but last year the times were shortened as we got closer to Halloween.
UPDATE: October 25 - You can now collect candy every 2 hours.
Spooky Sounds
Click the file names below to hear the sounds Spooky makes:
Prizes 2010
Candy
Eight of the candies available during 2009's Trick or Treat event returned for the 2010 event: Fruity Fangs, Gummy Paws, Licorice Pretzel, Magic W Lolly, Marshmallow Eyeballs, Sweet Spectre, Tart Terrors, and Wacky Gum Drops.
Four new candies were introduced in 2010: Chocolate Tombstones, Fizzy Fuzzies, Pastel W Poppers, and Slimesicle.
The four old candies that didn't return from 2009 were: Bat Bar, PB&J Chocowich, Tooth Glue Toffee, and Vampire Pop.
The 2010 Candies are shown below: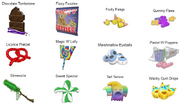 Grand Prize
Players who collect all of the candy receive a "2010 Jack O'Lantern" they can customize and display in their Webkinz homes.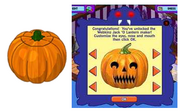 The 2010 Jack O'Lantern is similar to the 2009 Jack O'Lantern, but it has 5 new eyes, nose, and mouth choices each.