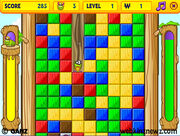 Tunneling Twigzy is a Deluxe only arcade game. You control Twigzy, a caterpillar. Your object is to guide him to the bottom of the tree.
Gameplay
Control Twigzy with the arrows. Press space to chew through a block which Twigzy is currently facing. Pick up power blocks to regain energy (shown on the right side of the screen). If Twigzy runs out of energy, or a block falls on him, you lose a try. The game is over when there are no more tries left.
Scoring
Webkinz Newz Preview Announcement
Coming soon is another brand new arcade game for your playing pleasure that will not only provide some fun solo play but will also give you the chance to compete for high scores in the Tournament Arena. Introducing Tunneling Twigzy!
Tunneling Twigzy is part puzzle game and part action game, requiring both quick fingers and a quick mind. As the courageous caterpillar Twigzy, players must dig through a tree trunk to reach the ultimate party pad located towards the bottom of the trunk. While digging downwards, players must also move left and right to avoid the falling debris that tumbles down behind them as they move down the tree.
Planning a route and dodging the tough brown blocks is the key to success. When you dig through a colored block that is connected to many of the same colored blocks, all of the like-colored blocks are destroyed. Use this to your advantage as you move down through the tree by paying attention to large clumps of like-colored blocks and changing your dig path to move through the clumps. Not only will this speed up your progress most of the time, it will also award bonus points!
Community content is available under
CC-BY-SA
unless otherwise noted.