Line 1:
Line 1:
 
+

[[File:1200px-Webkinz_Logo.svg.png|thumb|Logo]]

 

'''Webkinz''' are plush pets made by [[Ganz]]. They can be broken down into categories:

 

'''Webkinz''' are plush pets made by [[Ganz]]. They can be broken down into categories:

 

*Regular Pets

 

*Regular Pets
---
Revision as of 21:39, 19 September 2017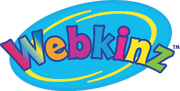 Webkinz are plush pets made by Ganz. They can be broken down into categories:
Regular Pets
Signature
Signature Endangered
Small Signature
Virtual
Under the Pets category, you will find links to the years 2005-2017. On those pages there will be a list of pets released that year.
A list of pet, pictures, and pet info is located in this page. Some pets have been featured as Pet of the Month, or Caring Valley Pets. There is also a list of Retired and Seasonal pets. These lists can be found below.
Signature
A list of Signatures can be found here.
Signature Endangered
More information on Signature Endangered pets can be found here.
Small Signature
More information on Small Signature pets can be found here.
Retired
St. Bernard, Basset Hound, Unicorn, Grey & White Cat, Cheeky Dog, Cheeky Cat, Gorilla, Pegasus, Horse, Love Puppy, Sherbert Bunny, Raccoon, Black Friesian, Yellow Lab, Elephant, Black & White Cheeky Dog, Tiger Snake, Leopard Lizard, Rhino, Samoyed Dog, German Shepard, Toco Toucan, Crocodile, American Cocker Spaniel, Striped Snake, Dalmatian, Beagle, German Shepherd, Collie, American Albino, Black Lab, Chocolate Lab, Floppy Pig, Sheep, Cocoa Dinosaur, Fantail Goldfish, Pink and White Dog, Deer, American Buffalo, Brown Cow, Monkey, Grey Squirrel, Chipmunk, Bullfrog, Siamese Cat, Caramel Lion, Purple Goldfish, Cherry Blossom Bird, Bengal Tiger, Brown Arabian, Black Panther, Polar Bear, Chihuahua, Phoenix, Eagle, Manatee, Camel, Tie Dye Frog, Bottlenose Dolphin, Donkey, Spotted Seal, Shar Pei, & Emperor Dragon.
Seasonal
These pets are usually only in stores during a specific season or holiday.
Love Puppy, Sherbert Bunny, Black Cat, Reindeer, Love Frog, Duck, Bat, Snowman, Love Monkey, Cotton Candy Bunny, Lamb, Clover Puppy, & Clover Cat.
Frog, Black Bear, Chihuahua, Cow, Panda, Elephant, Cheeky Monkey, Clydesdale Horse, Bull Frog, Hippo, Polar Bear, Bull Dog, Googles, Yorkie, Alley Cat, Cocker Spaniel, Pink Pony, Spotted Frog, Grey Arabian, Leopard, Golden Retriever, Pug, Koala, Schnauzer, White Terrier, Himalayan, Lion, Skunk, Pig, Bengal Tiger, Pink Googles, Persian Cat, Pink Poodle, Jack Russell, Silverback Gorilla, Blufadoodle, Caterpillar, Caramel Lion, Grey Owl, Silversoft Cat, Clown Fish, Rooster, Pelican, Black Cat, Walrus, Reindeer, Grey Langur, Pom Pom Kitty, Duck, Hedgehog, Wombat, Okapi, Pucker Fish, Barred Owl, Glamorous Gorilla, Midnight Monster, Red Squirrel, Moose, Aardvark, Springbok, Bull Terrier, Fleecy Sheep, Majestic Tiger, Cuddly Koala, Tree Kangaroo, Blossom Sea Turtle, Charming Panda, Black Wolf, Patchy Puppy, Snow Yeti, Arctic Polar Bear, & Pink Punch Cheeky Dog. 
Caring Valley
Panda, Poodle, Persian Cat, Black and White Cat, Brown Dog, Pinto, & the Pink Poodle.
Community content is available under
CC-BY-SA
unless otherwise noted.