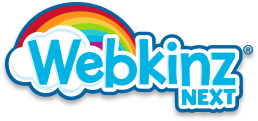 Webkinz Next is a 3D virtual pet app created by Ganz that was released on October 23rd, 2020, and is available to download on Windows, Apple (iOS 12.0 or up), and Android (8.0 and up).
With its release, the original Webkinz was rebranded as "Webkinz Classic" and is currently still available to play on mobile and PC.[1]
Gameplay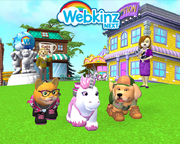 Webkinz Next is similar to Webkinz Classic, with both games including familiar characters and many of the same mechanics and gameplay, though a few new functions were added and/or modified. The main difference between the two is the modern 3D redesign of Webkinz World as a whole as well as the ability to freely wander through the Kinzville map.
Webkinz Classic and Webkinz Next can be accessed using the same login, providing a Webkinz Classic account was created beforehand. However, the pets, items, and other gameplay are not shared, and each account is separate aside from name.[2]
Pets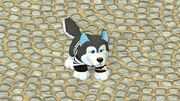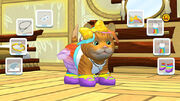 Pets have new 3D models, and are able to properly wear clothes rather than simply layering them atop the pet's sprite.
New types of clothes have been added, such as backpacks, bracelets, and necklaces. Unlike Webkinz Classic, players may now dress their pet wherever with no restrictions, and their pet will be fully clothed rather than half dressed.
Plush Pets
Starting in 2020 plush pets were made available. These pets can be purchased from the Ganz eStore as well as select specialty retail stores and include an adoption code for both Webkinz Classic and Webkinz Next.
Golden Retriever (December 2020)
Unicorn (December 2020)
Holstein Cow (April 2021)
Landrace Pig (August 2021)
Giraffe (October 2021)
Grey Tabby Cat (October 2021)
Elephant (November 2021)
Sloth (TBA)
Panda (TBA)
Limited Edition Plush Pets
These limited edition plush pets could only be obtained by creating a specific baby pet. A limited number of these plush pets were made. These pets do not come with an adoption code for Webkinz Classic.
Rainbow Retriever
Rainbow Unicorn
Fabulous Cow
Virtual Only Pets
These pets do not have a plush counterpart. You are able to adopt one of these pets when first creating our account. any pets after than can be purchased from the Adoption Center for 150 Diamonds.
Disco Rhino
Green Frog
Holland Lop
Husky
Moon Bear
Orange Tabby
Silverback Gorilla
Yorkshire Terrier
Babies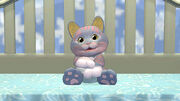 Babies are also a new mechanic built into the game. Using two of your pets' "Sparks", they can create a baby Webkinz that resembles both their parents. Players are to then care for their new baby, which will go through "Growth Moments" each time its requests are met. Eventually, it will grow into a Kid Pet, and then finally a Full Grown Pet that has the ability to gain Sparks.
My House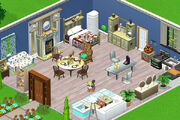 My House is now a fully 3D area with connecting on-screen rooms. Windows function to show what is outside rather than display its own individually designed view. Doors can be customized and edited as well. Items may now be placed onto more surfaces, such as dressers and fireplace mantles, and can be rotated more freely with "Advanced Editing", which removes the grid. Each house begins with one room and a yard area.
Chat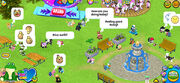 Players may now invite other players to places other than their House, and visit their friends' houses whenever. There are two types of chat: Button and type. Button chat is available for all users and consists of pre-determined phrases (i.e. "I like your outfit! Will you be my friend?") while type chat must be activated by a parent account. There are still restrictions through type chat, misspells and numbers will not be sent, as well as certain phrases (like "Your name"). Attempts to send blocked words will just result in the pet proclaiming "I am so silly".

References