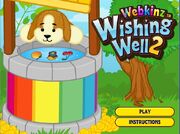 Wishing Well 2 is a game of luck and chance just like the Wheel of WOW. There used to be a Wishing Well 1 but they removed it a while back and replaced it with this game. All you have to do is click Make a Wish 5 times until you have to click Finish. If you get at least 1 Well or 2 Animals or Fruits in the center, the amount of Kinzcash earned is tripled. The Finish button is where the Make a Wish button is only the words changed. Remember, this is a game of luck and chance so you usually can get from 0 to 100 KinzCash. Occasionally you can get up to a larger amount like 1000 or a exclusive item.
Community content is available under
CC-BY-SA
unless otherwise noted.